Recently, I requested the members in the Parent Support Group (PSG) on Facebook about their values for health, wealth and education. Parenting is a very vast topic and because of this broadness, it is never easy to pinpoint what parents are looking for. So I decided to ask the question.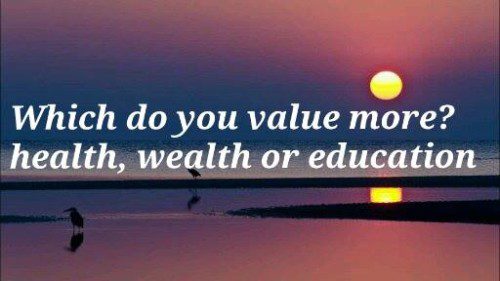 These are the responses from our group of parents:
Muhammad Nur Mohideen Top on the List for me is Health because without it no matter how educated or wealthy you are it will disturb your Happiness and Satisfaction in Living Life to the Fullest. With the Healthy Living Education that i Provided and Advicing to Help Others have a Better , Healthier Self then i show the ways for a Wealthier You. I am now in my Fourth Stage of Attaining Wealth and i have Help Some People Achieving First Stage, Second Stage and Third Stage for Wealth. I Would Love To Help More People in Maintaining Better Health, Receiving Best Education ( Thinking Out Of The Box ) and Receiving UnLimited Wealth Too.
Zaid Masagos Me? Education.. There are many types of education cuz might ask.. But when these three words (Health, Wealth & Education) are included in one question which i value most, then is thru education one will be healthier & wealthier.. No one just be healthy or wealthy, (some might say, thru Experience), then i say, Educate your Experience then!
Vicki Romanic I value all 3 but I guess in this order health, education then wealth. You need to have the health for clarity, mindset, passion, energy, excitement all comes from good heath.
Masayu Nurjannah Simply. Live Life Simply, Grow in Good Health and have the passion to Learn to educate self and Wealth comes Naturally!
Sharifah Narimah Health, is the most important thing in our lives. Lets face it, without it, we won't be happy, and we won't be wealthy in terms of it. It is more important than anything else. Material things come and go, but our health is number one out of everything else.
Lets put our health forward and concentrate on that the most and never lose hope. Always have faith, always live life positive. I know it is easier said than done, but positivity is the key to anything in life and no matter what life throws at us.
Serena Low No 'or', 'and' for me. Wealth comes in many forms, not just monetary. Spiritual wealth. Emotional wealth. I'm thinking more in terms of abundance.
Serena Low I (Hanifa K. Cook)  understand where you are coming from. In Chinese, the phrase would be 福利 or wealth in abundance. There is nothing wrong if we want more fortune and wealth, because for many people this pursuit of wealth improves their overall quality of life. They might have completed health and education goals. So for them it is a year to focus on wealth. There are indeed parents who equate wealth accumulation as unhealthy, so never really learn about finance, insurance, asset management and all that is necessary to pass down to the next generation. I am convinced that whatever you value most now, will form the catalyst of your lifelong journey in parenting, coaching, teaching, socialising and relationship building.
About Parent Support Group (PSG on facebook) , Collaboration for health, wealth and edcuation.

This group is a growing international community created by Hanifa K. Cook , author and creator of https://childhoodspeech.com Success With Languages, Empowering Journeys, Dare To Dream Big, the No 1 website on Google, Bing and Yahoo since 2008 for the keyword 'childhoodspeech'. There are presently 190 members in the group.
Who Should Join? All Parents who
1. need to support your family but you don't have time to do everything .
2. want support and collaborate to make your parenting journey a meaningful one.
3. can be self employed,  running a business or work from home parent.
This is for your health, wealth and kids education.  No other person is better at creating childhood memories for your kids and live a beautiful life more than you. Have a blast in here.
We welcome every parent who has kids, normal, special needs or autistic.
Discussions are built around themes as seen on the cover picture.
Other information for parents
Published rates for 2015 Tuition