Silence is golden and ignorance is bliss. How are we to understand the real meaning of silence if it were not for the presence of noise? This is a blog about silence.

On a cold winter night, the fireplace in the family room at home would be the perfect place for sharing the quiet ambience of the night. A candlelight dinner, a lullaby whispered through the ears of an infant, a gentle sway of the waves on the lake as the pelican glides through. We can be totally enveloped by the beauty of the environment and the warmth of loved ones which silence brings to us.

Silence is mandatory in the recording studio for voice over, dubbing, newsroom and recording artistes. If it were not for silence, the quality of the sounds will be lost.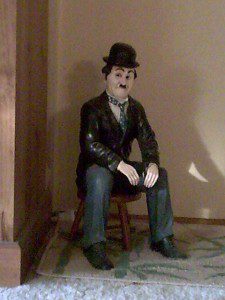 Charlie Chaplin (pic taken at Theresa Keast's residence in Australia.)


Silence sends chills down the spine. Ghost stories, horror movies. Crimes do take place in the still of the dark, silence of the night and quiet alley ways. People who have intention to steal or do evil will carry out their crimes in silence. In crowded places, it is perfect because sounds from their cruel acts go unnoticed and unheard. The condition is perfect for silence to lend time to evildoers.
Prayers are conducted in silence.

Silence is not a word that can be taught because it is constant yet not visible. To demonstrate silence is to be silent. A baby is sleeping silently in the arms of its mother. It might just entertain you with its breathing and twitch of its tiny fingers. His elder brother, still just 2 years old, appreciates this silence and stays still watching as the baby sleeps. The child learns not to disturb the baby by keeping silent.

Silence is a condition of life in perfect harmony with its environment; a sound can be heard but it is noise. Silence in the midst of the beauty of its environment becomes the environment.

Should you think that a child cannot be entertained without silence, then consider two of the most popular silent movie stars and comedians: Charlie Chaplin and Mr. Bean. They are not just the best in what they do. They are great at getting the best out of the child in all of us. We will laugh from our bellies. Do remember that any background music or printed words on screen are only created at the production room. During the shooting of movies, there can be no music or scripted words to help these actors demonstrate their skills at making silent movies. They make a connection with people and children all over the world through silence.
In honour or remembrance of people who died at war as civilians or soldiers, silence lends us time for a minute or two to stand together in prayer.

To teach a child silence, show them a picture of a lake. Ask them to look at it for a minute. On the back of the picture is the word 'SILENCE'which you will write earlier. Flip the picture over to show your child the word. You do not have to demonstrate silence by putting your index finger on your lips.
This post is dedicated to the late Theresa Keast, who died of cancer at the age of 40 years old. Even in her silence, we can feel her presence because she was someone who welcomed friends, no matter how recent she knew you.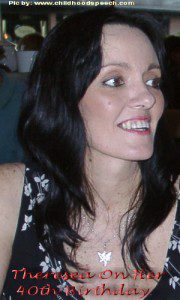 Silent Movie Stars
I stumbled on an interesting website about Silent Movie Stars.
Thanks to my friends at BlogCatalog who named some.
1. PetLvr's
2. Aaron
3. Dinsquared