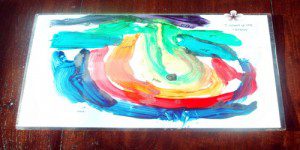 I had to sing a rainbow to save myself from getting worked up and re-discovered the meaning of work.
I can't wait for the school holidays to start. Here school calendar year starts in January and ends in December. This is the last week of school and she could hardly wait to start.
I was more anxious about her school exams. It is so easy to fall prey to anxiety and that turn into apprehension and then worry.
In between completing chores, serving meals for the family and attending to phone calls and guests at the door, I hardly have any time left for myself. This anxiety, apprehension and worry will now turn into anger and stress from mental and physical exhaustion. STOP!! This will end up in negative vibes that will spill over as aura around you, and the nearest and closest to you will be affected.
When we are teachers in a classroom, we can be emotional remote from the children and therefore we tend to be less anxious of their performance. It is different when you are parent and teacher to your own. It is harder.
So I sat on my bed with my laptop last night and my daughter joined me with her beads and needle craft. We stayed together for the next 2 hours not talking about examinations.
It worked. I followed her – the child – and worked with her instead of working for me. Montessori had taught about work; I pulled out from my notes and redisovered what I have written:
I only have myself to blame if I am emotionally stressful and frustrated because I create expectations, I expect results and outcomes perhaps not in monetary gains in this respect, but level of satisfaction that my child is well prepared for her examinations. In this calmness of thought, I found this a good moment to show one of the paintings she did in pre-school (3 years old) which I had laminated and used as a placemat. This is the outcome of her work I should be proud.
Red and yellow and pink and green, purple and orange and blue. I can sing a rainbow, sing a rainbow too. You've got to listen with your eyes, listen with your eyes, and sing everything you see. I can sing a rainbow. Sing a rainbow, sing along with me. Red and yellow and pink and green. Purple and orange and blue. I can sing a rainbow, sing a rainbow. Sing a rainbow too.