I was puzzled to see this on the menu selection in the POSB/DBS ibanking service. It is Singapore English or Singlish,  isn't it? POSB or Post Office Savings Bank was once our National Bank <check out History on Wikipedia> before it was privatised and then merged with DBS (Development Bank of Singapore).
Here is a print off my computer screen taken just today. Paylah is a real menu selection.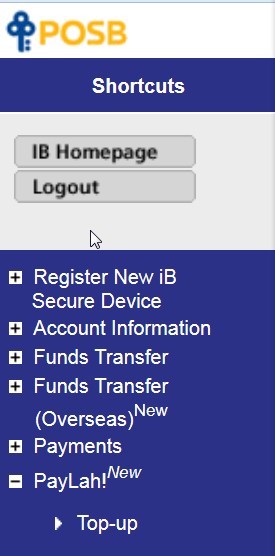 What is PayLah? To add a 'Lah' after  a word, usually  a verb or an action word, is characteristic of Singlish, the version of English most Singaporeans use. Here is what PayLah service is all about.
Overview

DBS Paylah! is a mobile wallet that lets you pay your buddies with your mobile phone.

Simply whip out your phone and send cash instantly! It's so simple to share a meal, a movie or anything at all with your buddies!

Send & receive money in seconds!
All you need to send money to your buddies is their mobile number! Simply pick a number, enter an amount and submit!
Receiving money is immediate and hassle-free too! The money goes directly into your own DBS PayLah! wallet instantly.

Safe and secure
DBS PayLah! is designed with safety features so that users can use it with confidence!
A personal password is required to access and use the DBS PayLah! app.

Examples of when you can use DBS Paylah!
Split the bill when you share a meal with friends
Pay your kid's math tutor
Give your children pocket money
And more!

For more information, go to PayLah at DBS. You can download the app via Google Store Or Apple App Store on your device.
Well, as I have noted before, Singlish is still better than no English. Read more on this here.
I can't still wrap my head around this DBS Paylah service. Singlish is unique to Singaporeans but why use it in a banking service?