I am currently using the Twitteriffic application on the iPhone. On Twitter's site, you will usually notice that some users have ticks on the side of their avatars which says, "Verified Account". Today, I spotted a
n account that has an Apple logo. On Jill's profile, it reads she has 1,947 followers, not a lot compared to verified accounts of celebrities who have hundred thousands to million followers. What surprises me is that Jill'has an Apple logo beside her avatar clearly displayed.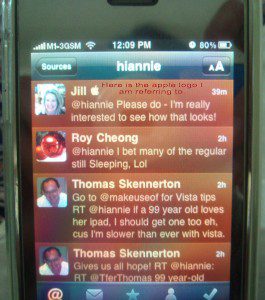 Jill's username on twitter is @MomsL8. When I browse to read replies to me, her name, not her username, appears. It is the same for all the other twitter users who have different display names on their profile and usernames.
I asked her if she could see an Apple logo next to my avatar on her iPhone or Mac too. Disappointingly she did not. So here it is, a picture taken from my iPhone. I know many other people on twitter use the iPhone or Mac. Yet why don't I see that from @Aniya who also uses the iPhone? I am using Twitteriffic application on the iPhone. I can't help but wonder.
It is also confirmed that I don't see the same Apple Logo on Twitter site on the laptop. So can Twitter Verified Apple Users please tweet up and tell us what this is all about? How do you do that?
The Answer: It Is Not Twitter Verified.

Like they always say, no question is too stupid to ask. If you do not ask, you will never get an answer. Thanks Jill, now I understand completely.