English and Mandarin are my two most frequently used languages. In order  to spare me the mental agony of having to switch between languages especially when the materials are difficult to understand, I use an application from my iPhone and iPad. Before I tell you any further about what this app is and what it does for me, you ought to read the following post, Translate With Success: Reasons To Avoid Using Digital Translator. In this post, reference was made to online translators. The app that I am referring to in this post is not a translator but a bilingual dictionary, called Pleco Chinese Dictionary.
The icon of the app is a simple Chinese Character 鱼 which means Fish in English.
Once you have downloaded the app, you can use it anywhere at anytime, without need for internet connection. Best of all, the Free version has more than enough support features for serious bilingual users like myself whose utmost concern is to be able to switch between two languages at real-time.
NOTE: In order to make good use of the Free version, you should already be able to read Chinese characters or Han Yu Pin Yin, and enter the Chinese characters using the international keyboard feature on your iphone or ipad. If you are not able enter the Chinese characters manually, the use of the Free version is limited to copy and paste method from any webpage, as described below.
Whether I am reading or listening to either English or Mandarin, finding out about the words I don't understand is a quick easy step. Just enter the keyword and you are done.


 You may also copy and paste an English word or phrase from any webpage.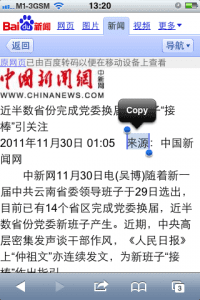 If you are online, it can't be any easier. You just highlight the phrase you want to check, click on 'copy'. Go back to the app and it will appear right on the search menu WITHOUT need for pasting.
The paid add-on versions are available at the following rates. If you are starting to read Mandarin characters, the OCR  and Audio Pronunciation are great add on features. If you use both English and Chinese regularly, it is worth checking out in the video tutorials on youtube.
Top In App Purchases
Full-screen Handwriting$14.99
Optical Character Recognizer$14.99
Optical Character Recognizer (Educational Discount)$11.99
Full-screen Handwriting (Educational Discount)$11.99
Pleco Complete Bundle (Educational Discount)$99.99
Audio Pronunciation (female) (Educational Discount)$7.99
Stroke Order Diagrams (Educational Discount)$7.99
Flashcard System (Educational Discount)$11.99
Pleco Professional Bundle (Educational Discount)$69.99
Audio Pronunciation (female)$9.99