The closing of Borders Bookstore in Singapore, based in the United States Of America is finally sinking in. The building where it was at, called Wheelock Place, was next to Liat Towers. And Liat Towers was where McDonald's first opened its fast food restaurant in 1979 in Singapore. I attended Raffles Junior College at Paterson Road for 2 years before it moved to Mount Sinai. It was this association with my history which brought me back to visit Borders Bookstore  at Wheelock Place about 9 years ago.
Despite its strategic location, Borders Bookstore never did get my attention. I must have visited the bookstore 3 times, twice at its branch in Wheelock Place and once in Parkway Parade. I only bought one book from Borders Bookstore. It is now my most treasured buy. Here is my story.
[Before Popular Bookstores became the one stop shop for students, MPH (we used to call it Mad People's House) and Times Bookstores were the two bookstores (other than our school bookshops) where you could find English textbooks and reference books.]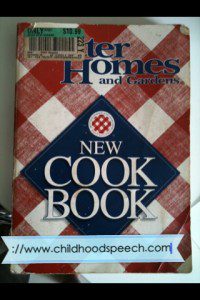 Believe it or not, I bought a cook book. An American Cook  Book that cost $10.99. At first glance, I thought, "Ok, since I have to start learning to cook western food, I might as well buy a book that has at least each and every known recipe. $10/- is not a bad investment." It continued to sit in my shelf for the past 10 years until early 2011 when I decided I wanted to do something about my baking skill, which was nought.
This book had been shown to 3 people only: my dear cousin, Nadia, who died of Breast Cancer about 5 years ago and two Indonesian maids who worked for my family at different period of time. Nadia had stayed in Australia for 2 years and loved western cuisine. Whereas the maids loved to flip through this book in search of cooking tips. For me,  I could only see the word baking splashed all over the pages of this book. So I never did dive into the book at all.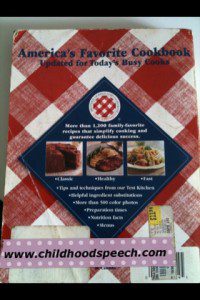 The words on the back cover read American Cookbook. This suggests that I may have to deal with Western ingredients. The thought of baking turned me off ever wanting to read it, let alone use it as  a reference. I had so many excuses in my head, "Baking is equivalent to making a mess. If you fail in your first attempt, you will lose everything, the ingredients and your face. No one will want to try your next meal. I could never find the ingredients in this part of the world. Etc etc"
I have heard too many failed attempts and allowed it to take over my desire to learn. Plus I don't like reading recipes. There is simply no time to read when the stove is going on high heat. (Baking and stove cooking somehow go hand in hand. ) I have good reasons, for myself, to avoid baking. I can think of a thousand and one reasons, make it legitimate, just so I can hide behind my own lack of self confidence.
The book finally made its way in a cargo when we headed back to Singapore. It got unpacked and was left on the bookshelf, still with other cookbooks which I prefer to use because they contain no recipes for cookies and cakes.
Fast forward to 2011, "Better Homes and Gardens New Cook Book" is now the most used book in my kitchen as far as baking is concerned. I have borrowed 6 different cookbooks from our local library. Nothing has come close to this cook book I bought from Borders Bookstore more than 9 years ago. I had the perfect teacher in my hands all along and I never trusted it or myself. The recipes do not call for me to install a gas oven with an internal fan. It does not contain beautiful and mouth watering pictures of cookies and cakes to entice me to try the recipes out. It is just a book full of recipes of sorts and basic information just about everything you need to know to be a master of your own kitchen.
As the saying goes, "Don't judge a book by its cover." The book was bought at a bargain price of $10.99/-. It was sitting in the bargain pile at Borders Bookstore inWheelock Place. For the past 9 years, it fed me no knowledge or experience. This year, it has served my entire family. All the recipes I have tried from this book are gems: Carrot Cake, Chocolate Meringue, Bowl of Chocolate Cake and homemade Custard. This thank you note is probably 9 years late but Thank you Borders.  You've made my life sweeter. We are grateful to you for bringing us the joy of reading and discovering what knowledge can do when you experience it.